Sino Ka nga ba ?
Dear mouse,
If you occasionally misplace your keys or can't quite come up with the name of a friend , don't panic. As people age, learning new material and multi-tasking are not as easy as before.These "dementia-like" states are reversible. Clinical depression, medication side effects, low thyroid output ,alcohol and information overload are identifiedto be the causes.If you suffer from these "lapses" there are some things that you can do to keep yourself mentally stimulated:
Do aerobic exercise .
Pay attention to your diet.
Don't stress your memory. "Write things down in a notebook or on yellow sticky pads, dictate thoughts and a 'to-do' list into your telephone answering machine.
Stay organized. Put things in the same place so you can find them later.
Pay attention to the things you want to remember.
Try to remember things by breaking them into chunks, as we do with phone numbers.
Associate things you need to do with ideas that will trigger your memory.
But this is the best.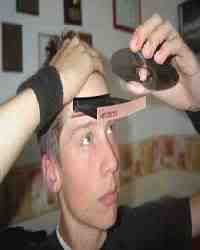 The Ca t