Ito naman ang saiyo--FVR
Dear Mouse,
Fidel Ramos and Senator Santiago are at each other's throat again.
I like reading Santiago's snipes at Ramos and Ramos' cool manner of striking back.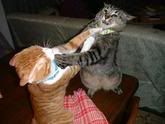 Ano kaya ang masasabi ni Miriam sa balitang ito.?
Ay kabanata susunod abangan.
(Tama ang basa ninyo sa huling sentence. Dyslexic ang keyboard ko)
FVR: Miriam OK'd Smokey projectp/>

By Sandy AranetaThe Philippine Star 08/22/2004

Former President Fidel Ramos turned the tables on his arch nemesis Sen. Miriam Defensor-Santiago yesterday, claiming she was among the officials who approved several major reclamation projects during the Aquino administration. Ramos told a news conference that Santiago was a participant in at least three reclamation projects when she served as a board member of the Public Estates Authority (PEA) from 1988 to 1991. "Miriam Defensor-Santiago, as director of the Public Estates Authority... concurred in or recommended approval of use of reclaimed lands as 'enabling component' in government development projects similar to Smokey Mountain," the former president said in a statement he distributed to the media at the Ninoy Aquino International Airport (NAIA) before flying to China for a speaking engagement.
Kawikaan ngayon:
Matutuyo na ang sapa nguni't hindi ang balita.
Lalo't binasa ang diyaryo para gamiting pampunas ng dumi. ooops
The Ca t