Bomba, FF, ST,TT and PP
Dear Mouse,
To see the pics of one of the "Baywalk" demonstrators click here, click entertainment sa may banner sa itaas. Then click Billy Balbastro's columnto see the other sexy stars.
If you fail to see the pic of Kat De Santos, puwede na siguro ito. CAT din siya na kapareho ng sexy pose ni Kat De S.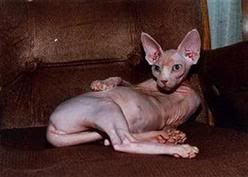 Jay David sent this piece of news to me thru Dr.Emer.
Topless women in T-backs send cops' tempers flaring.

EIGHT starlets paraded nearly naked in front of the Malate Church in protest against censorship.

The members of Bodies, said to be a counterpart of the Viva Hot Babes, jumped on to the ledge of a fountain outside the Malate Church clad only in skimpy underwear and transparent raincoats, causing a massive traffic jam as people gathered under the rain to gawk and cheer them.

When police arrived, the starlets stripped off their raincoats and bras, crossed the street and peacefully surrendered their undergarments to the flustered officers.

The starlets, who included Kat de Santos and Kuhdet Honasan, had appeared in a series of adult movies.

starlets were protesting a decision by SM Prime Holdings, the country's biggest mall operator, to stop showing adult films in its cinemas.
REWIND
It was bomba film in 1970 (1970-Sept. 1972); bold film, wet look stage (1974-1976); bold film, daring stage (1976-1982); FF (fighting fish film) films and pene films (1983-1986); ST or sex-trip film (1986-1992); and the TT films (1992-1998); and the PP films (1998-present).
The bomba stars in 1970 were:
1. Merle Fernandez -sister of Rudy Fernandez, the husband of Lorna Tolentino
2. Stella Suares- the mother of Richard Gomez, the Palibhasa Lalaki star/attempted to become a party-list congressman/served as hawi boy for the D' King Poe.
3.Rossana Marquez-any relation to the Marquezes?
4. Divina Valencia-mother of Dranreb or Dranreba?
5. Yvonne
The bold wet look stars were:
1. Gloria Diaz, the first Miss Universe- sister of Rio Diaz, another beauty titlist and now the wife of Charlie Cojuangco.
2. Elizabeth Oropesa-a well known Marcos loyalist. Married and divorced a Chinese martial arts movie star. Still active.
3.Daria Ramirez-the ex-wife of Joey De Leon of Eat Bulaga and the mother of Kempee de Leon (I did not know that she was a bold star)
4. Alona Alegre-a half sister of Philip Salvador, the ex of Kris Aquino and the defendant of the suits by Decena and Co.
The FF and pene bold stars were:
The FFstars:
1. Isabel Lopez- a UP student ? graduate? She was interviewed recently and she is a stay-home mom who is into painting.
2. Ana Marie Gutierrez-who she ? any relation to the Gutierrezes?
The pene stars werethe Amerisian beauties known as the soft drinks movie stars:
1. Pepsi Paloma-was she the one who committed suicide and was a rape victim of the famous three noontime emcees ?
2. Coca Nicolas-no info
3. Sarsi Emmanuel -she was recently intervewed working as a laundrywoman?
4. Brandy Ayala-She was committed to an institution recently as per request by the mother.
5. Claudia Zobel-no info
The ST film stars were:
1. Gretchen Barreto-ex-wife of Joey Loyzaga and now the Queen of Tonyboy Cojuangco
2. Rita Avila
TT film stars were:
1. Rosanna Roces
2. Alma Concepcion
3. Rita Magdalena
PP film stars were:
1. Joyce Jimemez
2. Patricia Javier
3. Ina Raymundo
4. Klaudia Koronel
What about Lorna Tolentino and Rio Locsin ? Were they not sexy stars too?
(Most of the data here were derived from Bulatlat. The rest were from informal interviews with people who know something about the sexy stars included in the list).
The Ca t