My friend Wanderlust
Dear Mouse,
This one is from a long time friend, Wanderlust.
And where you sat, I must sit
At night, when the moon's lit
Gazing up at the silvery sky
Finding a lucky star there up high.
Or as the sun rises in the morn
As the mist seemingly goes in forlorn
Leaving a leaf or a petal a dew
Watch 'em flowers freshen anew.
The Ca t writes:
A true friend is a treasure,
He isn't easy to find,
He is unique and priceless,
He is that one of a kind.
A true friend is forever,
He'll always stand by your side,
Regardless of the weather,
No matter how rough is the ride.
A true friend is always there,
Even if you are apart,
He shares your deepest despair
Even if it breaks his heart.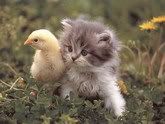 Sensiya na kayo kay Pusa. Trying hard lang ako iimpress si W.
The Ca t