SOLD
Dear Mouse,
Days ago, Sassy blogged about the sandwich that was claimed to have an image of the Virgin Mary being auctioned in the eBay.
Here's the update:
Casino buys Virgin Mary sandwich for $28,000
By EVAN S. BENN
ebenn@herald.com
Stick a fork in it.
Diana Duyser's ''Virgin Mary'' grilled cheese sandwich is done.Sold, as of 8:22 p.m. Monday, for $28,000 on eBay.
The lucky winner? GoldenPalace.com, an online casino whose executives say they were willing to spend ''as much as it took'' to own the 10-year-old sandwich half with a bite taken out of it.
''It's a part of pop culture that's immediately and widely recognizable, '' GoldenPalace spokesman Monty Kerr said.
``We knew right away we wanted to have it.'' The new owners of the sandwich, which the 52-year-old Hollywood woman says bears an image of the Virgin Mary, didn't want to risk it getting lost in the mail.
Kerr and Steve Baker, CEO of Golden Palace's management company, Cyberworld Group, flew to South Florida on Monday to meet Diana and Gregg Duyser, wine and dine them and make arrangements for a sandwich hand-over.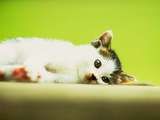 And I thought that my bid of 4.99 without soda and french fries was enough.
The Ca t