Gods also die---
Dear Mouse,
Did you ever wonder what happened to the men who played gods?
Pol Pot
Pol Pot died in 1998 due to heart failure although the cause was still unclear. His body was cremated on a pyre of old car tires beside a public toilet and the site is later enclosed by a crude timber shelter roofed with old sheets of corrugated iron.
Stalin
He was pronounced dead in March 1953 after collapsing four days earlier at his country house outside Moscow. The cause of death was declared to be a cerebral haemorrhage, although some mystery surrounds the actual circumstances
.
Hitler
He committed suicide. His charred body was discovered by the Soviet forces occupying Berlin shortly after the city falls. It was smuggled back to the Soviet Union, where its upper and lower jaws and the cranium were said to still exist in official archives. The rest of the body was hidden under a parade ground at Magdeburg, in what was to become Eastern Germany. In 1970 these remains were secretly dug up, cremated and flushed down a sewer.
Mao
Mao died of a heart attack in Beijing on 9 September
.
The lesser gods
Idi Amin-Uganda
He killed : 100,000-500,000 (most sources say 300,000).

Amin died in hospital of complications due to multiple organ failure at 8.20 am on 16 August, 2003. He was buried in Jeddah's Ruwais cemetery during a small funeral ceremony just hours after his death
.
Prince Yasuhiko Asaka -Japan.
Killed: 200,000-350,000 Chinese in the Rape of Nanjing (Nanjing Massacre)

1981 - He died of natural causes at his home in Atami, on the Izu Peninsula south of Tokyo, on 13 April. He was 93 years old.
Anastasio Somoza Debayle-Nicaragua
Killed an estimated 50,000 killed during the Nicaraguan "revolution", 120,000 exiled and 600,000 made homeless.

In September 1980, Somoza Debayle was assassinated while in exile in Asunción, Paraguay, reportedly by members of the Leftis t Argentinian Revolutionary Workers' Party.
Himmler
Himmler oversaw the mass murder of Jews, communists and other opponents in the Ukraine. He organised the systematic exploitation and slaughter of millions of Jews in extermination camps in Poland. After fainting at the sight of 100 Jews being shot on the eastern front, he ordered a "more humane means" of execution - the use of poison gas in specially constructed chambers disguised as shower rooms. Himmler committed suicide by taking poison on 23 May in Lüneburg, Germany
.
Goebbles-one of the holocaust engineers
By April an Allied victory in Europe is certain. On 30 April, following Hitler's suicide, Goebbels became chancellor of the Reich. On 1 May, as Soviet troops stormed Berlin, Goebbels had his six children, aged four to 12, poisoned with lethal injections by an SS doctor. He then had himself and his wife Magda shot by an SS orderly. Not long before his death he said, "We shall go down in history as the greatest statesmen of all time, or as the greatest criminals
."
Except for the Prince of Japan who was not tried for his crime and died due to natural causes, most of the gods met horrible deaths.
But men never learn from history.
For having suffered the pain of surgery of a knee and having stayed in an expensive suite, an ex-president would like to be welcomed as a hero.
Pakisampal nga ...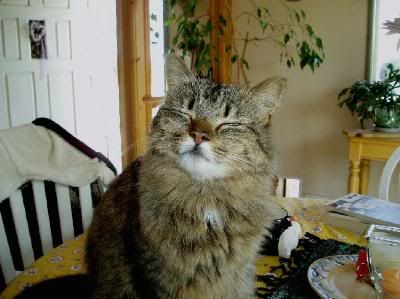 hindi ako... si frat.May jetlag pa siguro yon.
Source: killers
The Ca t