Pakisampal nga
Dear Mouse,
I usually end my political commentary with "pakisampal nga ako". When queried by a regular commenter as to my reason for the use of the statement, I responded that I would like to have a red mark on my cheek for a blush-effect.
Here comes the wet rag scheme of the MMDA for jaywalkers where a violator would be punished by flopping a wet rag on his head.
My question is, for what effect ? Basang sisiwpusa effect?
Bakit di na lang nila sabunin(literally) bago i-release with a violation ticket.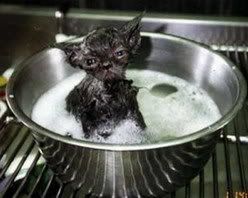 O kaya:
Bakit hindi na lang maglagay ng isang detention center mismo sa lugar where the violation was committed. It should be strategically located in a point where other pedestrians and prospective jaywalkers can see and be warned.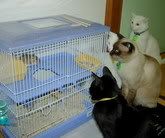 Ilagay ang banner, huwag pamarisan.
The Ca t