Libog mo
Dear mouse,
Whoaaa, before you click that back button, stop and continue reading. I know I shocked you with my title.
As have been mentioned by my fellow berks in their blogsites, the topics that we discussed in the blogkadahan's g-mailslashchatroomslashforum range from the mundane to mundane, from green to greenest jokes and from absurd to most absurd...but one thing that we could credit ourselves, is the encouragement of our Fil-am members to speak and write in Pilipino.
The beauty of it is that we speak different dialects so you could imagine the flurry exchange of e-mails when one insists the meaning of a word from his/her native tongue.
Like, malibog.
In Tagalog, that is horny, but it Bicol, that is labo mo. You're clueless. For water, it is murky.
Like, mahilig siya sa "lagay".
In Tagalog, it is grease money, but in Cebu, it is the man's reproductive organ.
So if you are a voter and a non-Cebuanon- politician promised to "putol the lagay", would you vote for that candidate ? Hmmm?
Like, utot.
In Ilocano,utot is a rat while in Tagalog, it means flatulence.
If Batjay seys, mahilig akong umutot.
It could mean he likes to rat.
Like utong.
In Ilocano, utong is string beans, while in Tagalog, it refers to nipples.
So when an Ilocano asks a non-Ilocano vegetable vendor: Bigyan mo nga ako ng utong, baka masampal pag babae yong sinabihan.hehehe
Like titi.
(hindi ako bastos 'noh).
In Pampanga,titi or tete means bridge while in Tagalog, it means the thing. you know.
So when a Cafamfangan asks you to show him the titi batu...don't slap him.
How about the egss and the birds?
In Pampanga, the egg is already ibun and in Camarines Norte, the penoy is not a duck's egg but a chicken egg.
If you are not entertained by this article, let me sing you a song.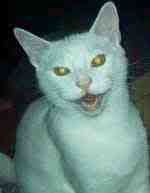 Sarung banggi,
Sa higdaan,
Nakadanggog ako,
Nin huni
Nin sarong gamgam.
Garo baku,
Katurugan,
Baku kundi, simong boses,
Ika palan.
Translation
Miyawr,miyawrm niyawr, miyarw.
Arayyy,ba't kayo nambabato ng Pusa?
The Ca t