Rubbing Elbows with Donald Trump
Dear Mouse,
Habang ang ating mga kababayan ngayon ay hindi malaman kung saan susuling dahil sa nawalang tahanan, ang anak naman ni Carlos Garcia ay nakikipag rub elbows sa may-ari ng Trump Parc na si Donald Trump.
Kainggit 'ne po? para bang sila lang ang anak ng Diyos.
Corruption trail takes probers to Trump Parc
Cristina DC Pastor, Dec 08, 2004
NEW YORK — Investigators from the Philippine Office of the Ombudsman looking into charges of illegally-acquired wealth against Army Maj. Gen. Carlos Garcia were in town recently and visited a high-rise apartment believed to be the residence of Garcia's son.

Philippine News learned the investigators visited the glitzy Trump Parc, owned by real estate tycoon Donald Trump, before proceeding to Ohio where the Garcias reportedly also own expensive real estate.

The Trump Parc fronting the fabled Central Park is said to be the address of Timothy Marc Garcia, one of the general's sons and a fashion design student in Manhattan. Trump Parc has apartments going for rental rates of at least $2,000 a month.

As the Philippine investigators were huddled in a meeting with Trump Parc building managers, Donald Trump wandered into the boardroom, momentarily interrupting the session. Trump, who was curious about the purpose of the investigation, was given a quick briefing.

He left the room shortly after.
Sa isip siguro, kung hindi pa corrupt ang pamilya ninyo..etc, etc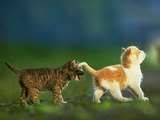 Tsee
The Ca t