Is that you ?
Dear Mouse,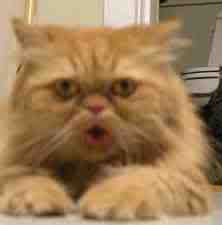 Batjay is that you ?
Man in Batman Suit Climbs Onto Court Roof
AMSTERDAM, Netherlands - A man in a Batman suit spent several hours on a rooftop balcony atop a courthouse in the Dutch city of Utrecht on Monday, protesting the treatment of fathers in divorce cases.

Police initially said they planned to ignore the man, a member of the group Fathers for Justice, until he came down

.
Is that you Madam Auring ?
Romanian Mother, 66, Baby Girl Doing Well
A 66-year-old professor who writes children's books claims to have become the world's oldest woman to give birth, and doctors said Monday she and her day-old baby daughter were in good condition in intensive care
.
Is that you Lastikman
Florida Man on Lam Found Inside of TV
BAINBRIDGE, Ga. - A 6-foot man allegedly on the run from Florida authorities since September was found this week curled up inside of a television.
The Ca t