SO YOU THINK YOU KNOW EVERYTHING?
Dear mouse,
Ever wonder why you can do this to your cat?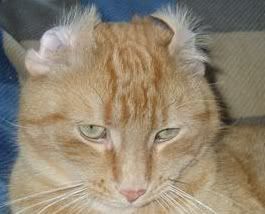 Because a cat has 32 muscles in each ear.
1. It has also over one hundred vocal sounds. Dogs only have about 10.
MEMEMEMEMEME
2.A dragonfly has a life span of 24 hours.
And I was very guilty then when i found them dead a few hours after i tied their tails with thread.
3.A crocodile cannot stick out its tongue.
Magandang tuksuhing BELAT...
4.A goldfish has a memory span of three seconds.
Meron pa palang masahol sa akin.
5.A "jiffy" is an actual unit of time for 1/ 100th of a second.
Now that was unrealistic when they tell me to do a sandwich in a jiffy. (kamot ulo).
6.A snail can sleep for three years.
Kaya pala sila may cover. Para di sila maistorbo.
7. An ostrich's eye is bigger than its brain.
Hmmmmm. maraming ostrich sa Congress.
8. It's impossible to sneeze with your eyes open.
ACHOOOOOOOOOOOOO
9. Leonardo Da Vinci invented the scissors.
Mahaba kasi buhok niya.
10. Our eyes are always the same size from birth, but our nose and ears never stop growing.
And I am not even lying.
11. Peanuts are one of the ingredients of dynamite.
Uhmmmm, I am must be a walking dynamite, I ate a lot of peanut butter.
12. Rubber bands last longer when refrigerated.
And I thought they are noodles.
13. There are more chickens than people in the world.
And people eat chicken everyday.
14. Winston Churchill was born in a ladies' room during a dance.
I am wondering what was his mother dancing ?
15. Women blink nearly twice as much as men.
Got to try.
via email from brother.
The Ca t