Leonardo da Vinci and Cinderella
Dear mouse,
Well, that was one movie where Da Vinci was depicted as Cupid and was actually the Fairy Godmother of Cinderella. I am talking about EVER AFTER featuring Drew Barrymore.
And this drawing of his entitled LEDA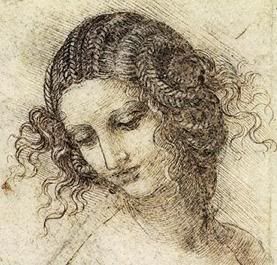 was supposed to be Cinderella who married the Prince despite the manueverings of the Wicked Stepmother portrayed by Anjelica Huston.
What was funny in the movie was when Da Vinci helped the other servants to free Cinderella/Danielle when she was locked up by the stepmother so she would not be able to attend the ball.
While he was removing the bolts, he uttered, I will go down in history as the Man who opened the door. Funny and prophetic.
This time Cinderella was presented without magic, without the beautiful carriage and horsemen from the rats. But still with the glass slippers and the wings given to her by Da Vinci.
It was not her beauty that captivated the prince but her brain,a peasant who discussed issues with the prince according to what she read from the book THE PRINCE and other scientific books that his father hoarded for her when she was just a little girl. It was her love for books that gave her the confidence to criticize the prince for being coward to admit the obligations of a privileged royalty.
Intellectual approach of presentation of the fairy tale but I still love the romance element-a love story that ended happily ever after. And if the fiction is to be believed, the University where the portrait hung was the brainchild of Cinderella.
It is a fairy tale where there is no fairy and for adults who love to read history.
By the way the setting is France, where Da Vinci was invited by the King to be the resident painter of the Palace when he left Italy.
The Ca t