Good news, Bad News
Dear Mouse,
Good news. GDP posted a growth rate of 6.20 percent in second quarter.
Cat sez: The number is up but it was mainly due to election spending and increase in cell phone usage. Besides,it falls short of the required growth of 8 per cent in the next two years in order to prevent the country from singing—Don't Cry for Me, Argentina Philippines.
Bad news. The GNP growth rate declined from 6.5 per cent to 5.7 per cent. This was attributed to the decrease in the overseas workers' remittance from 11.50 per cent to 3.3 per cent in the same quarter last year.
We have to acknowledge the fact that the UP economists who authored the white paper on debt crisis pointed out that these remittances are what stop the country from further sliding down to a more serious fiscal crisis.
And there are people who call these OFWs, toilet cleaners.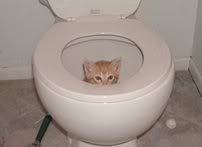 The Ca t