Kulit ko kasi
Dear Mouse,
Una-unahan lang yan magpadala ng package kina Sassy at yuga with the note that "it will self-destruct with a bang if you decide not to feature my Now What, Ca t as the blog of the week". (Mission Impossible sound track please).
Sainyong dalawa, salamat sa kaintri- intriga ninyong pag feature sa aking blog.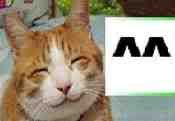 Let me add some more bits of information about me aside from I am techno-challenged.
A=I want to write my alibiography.
B=I love bowling. I knock things down when I am pissed.
C=I am a consultant.I am too smart to tell you how to start,run your business and too smart not to start my own.In short I am unemployed. hahaha
D=I always have a wastebasket. It is called desk.
E=My favorite expression is etcetera, etcetera.Don't ask.I am damn lazy to write why.
F=I love my first grade teacher. She knew how to make little things count.
G=I am a ghost writer. I write about ghosts.
H=I am not a human dynamo. I do not charge everything to my credit card.
I=I love intelligent conversationalist -one who nods in agreement when I am talking.
J=I carry my investment even in the toilet.Diamond is my best friend.
K=I dislike know-it-all-people. They force me to read more.
L=I am a believer of life. I can not kill a roach.
M-I love Mondays. Holiday in the US always fall on a Monday.
N-I hate neighbors who think that my luxury is their necessity.
O-I love going to the zoo. It is only theplace where I can have one-way conversation with the animals.
P-I am perfectionist. I never finish any work I started out to do.
Q=I got a quiet place on a hill.
R=I am on a life support system--- my refrigerator.
S=I am a woman full of surprises. Do not open my drawer.
T=I love traveling especially if it is all expenses paid.
U-The only things I hate to collect are unpaid bills.
V=I am a vegan. I do not know how to cook.
W= I am a writer. I write checks from my checkbook,always with an unhappy ending.
No X,noZ,asI have said I am a perfectionist.
The Ca t