I survived Christmases like this...
Dear Mouse,
Jet David, the bitterbetter-half of Batjay wrote in her article " When Christmas lunch is up to us:"
It's still a lot of fun... but I'm not one to yelp in glee anymore. I'm just one of the aunts now, catching up on my siblings lives, listening to our husbands talk shop or talk silly, hearing about my nieces' and nephews' year's worth of mischief.
'Kuya El, yung bunso mo andun sa may garden nakikipag-away!'
Ako rin. Uhm uhm uhm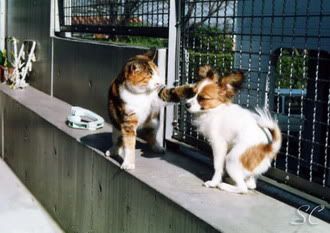 Merry Christmas, my human pets.
The Ca t