Profile of Bloggers in the US
Dear mouse,
The article says:
The study -- from The Pew Internet & American Life Project -- makes a strong case that blogs are becoming part of the daily internet fare of millions, but that many millions more still have no idea what a "blog" is at all.
According to the findings of the study, the bloggers in the US are :
• Men: 57 per cent are male
• Young: 48 per cent are under age 30
• Broadband users: 70 per cent have broadband at home
• Internet veterans: 82 per cent have been online for six years or more
• Relatively well off financially: 42 per cent live in households earning over $US50,000
• Well educated: 39 per cent have college or graduate degrees
Inspired by this research,the cat did some bloghopping for days now to read some pinoy blogs to find out more about pinoybloggers.I am not using the survey/questionnaire method.I prefer using the "usus"method. Ususera for you para mausisa ko rin sila.
Kaya pagod ako. Haaay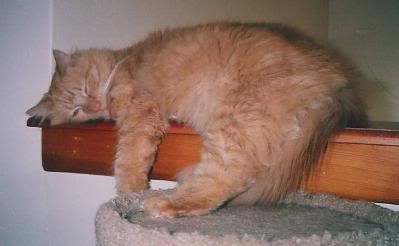 The Ca t