My Life ---
Dear mouse,
I started getting out again--breathing the cool morning air and walking past people who are in a hurry to catch their buses.
For the past months, I like to think of my place as a womb, a protective little enclave that I can slip into and disappear from this cruel world.
My place that has been a sanctuary of lost, depressed and confused souls is now empty. The phone has long been dead except for calls from a soul mate.
I feel the grip of sadness and I thirst for my old friends and people whose lives I touched and I thought I could count on now that my defenses are at the lowest level.
Many times, I stopped this thought.
Friendships and relationships are just like investment ventures. Sometimes you win and reap huge dividends in return.Sometimes you lose including your shirt at your back. Mine was anchored on the pay forward scheme. So I thought.
But when you are in the middle of storm, you wish for someone to offer you a refuge even an umbrella or an old jacket.
You wish that somebody wrap you in his arms and give the comforting words that it will pass.
Then you get soaked and the blues just won't get away.
The strong wind must have ripped the fabric of friendship. She does not return your call anymore. She is afraid that you may ask favors that her spouse may not approve--the Spouse who knew that you took care of her when she was ejected from her house after her live-in boyfriend left her for good.
You just want somebody to talk to.
The rain must be too strong that it caused a deluge to the memory of a person who owed you his good education only to advise you to avail of a low cost housing while he enjoys the luxury of a million dollar house in an upscale village.
You are not even hinting that you are looking for a place.
Then there are some who called you in the wee hour of the morning at the first signs of trouble in their lives.
Now, they just shut their cellphones off.
Yes, when it rains, it pours. It must have drenched the hearts of the people whom you have guided like toddlers starting to make their first baby steps . Now they are grown-ups; their backpacks filled with wordly passions and material attachments, false values like pride,vanity and selfishness and excessive ambitions to rake in more millions. They kicked you out of the business when their relatives who did not even believe that the two ventures would take off started dipping their hands in the businesses' kitties.
But there are people whose friendships you would not like to lose. There are relationships that you like to keep. They are like plants that should be placed in a shade away from the storm. Let them blossom and give out love that does not depend on whims and caprices. Let them bring sunshine to your life.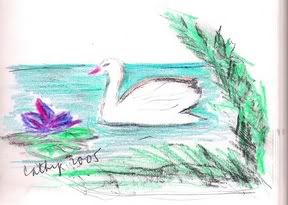 To you, God bless.
The Ca t