I am sorry, I lied to Jay and Jet
Dear mouse,
I told Jay that I was on a hiatus for six months due to some personal matters that I have to attend to.
It was a lie. The real truth is that I cannot simply go out from where I was staying.
Because of the daring escape I made, a long-time stalker found me again and blackmailed me to have a group picture or else he would see the Mother Superior.
This was the pic, cropped in order to hide the identities of other nuns.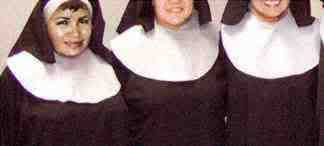 picbypolo
The Mother Superior got wind of my little escapade that she ordered for the suspension of my novitiate.
And I thought SHE is very prayerful.
* hikbi*.
The Ca t