Special Diet Cooking Journal
Dear Wife,
I am not a culinary expert, so I won't teach you the art of cooking. I leave that to my favorite blogger-chefs.I am not a gourmet so I am not a good judge of fine food and wine. But I am in the borderline of being diabetic and hypertension and high cholesterol run in the family's royal red blood.
Then I found out that I am not alone. Many of my friends are in the same boat. Many are unaware that we can still enjoy food minus calories without having to eat bland diet.
Panic, panic, I cannot find food blogs that address this segment of population, the people who need special diet.
So I will start with the food recipes provided by my doctor.May I share with you therefore the recipes for special diets.
For this particular journal, I am calling it "Dear Wife."
This one is recommended for candidates for diabetes or are already diabetic.
Chicken With Mushroom
&nbsp
AMOUNT
&nbsp
&nbsp
C
P
F
INGREDIENTS
measure
&nbsp
grams
grams
grams
grams
chicken(broiler)
1/2 ave.
&nbsp
120 g
0
28g
20g
onion
2 tsps
&nbsp
0
0
0
0
butter
1tsp
&nbsp
5 g
0
0
5
mushrooms
4
&nbsp
0
0
0
0
salt
few grains
&nbsp
0
0
0
0
pepper
few grains
&nbsp
0
0
0
0
total
&nbsp
&nbsp
0
0
28 g
25 g
Calories 336
Legend:
C=Carbohydrates
P=Protein
F=Fats
Cathcath 2005
Cooking instruction:
Melt the butter.
Put the chicken and onion in pan and fry until golden brown.
Cover after adding the salt and pepper and cook slowly until done.
Cook the mushrooms in boiling water.
Drain and add to the chicken while it is still cooking.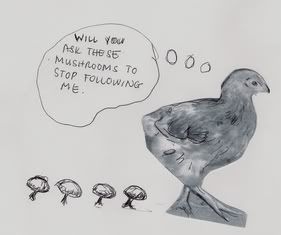 For more of special diet recipes, go to my new special diet journal
The Ca t