Special Low Calorie Recipe
Dear Wife,
This recipe is for those who want to cut down on calories in order to see their waistlines shrink by a few inches and trim down the fat in their bellies.
Courtesy of a friend who was put into diet by his doctor.
Guaranteed results.
American Fish Chowder
1 teaspoon butter
1/4 cup finely diced onion
1/2 lb lean white fish
1 teaspoon minced parsley
1 buillion cube
3/4 cup skim milk
salt and pepper
1. Place butter in a small saucepan. Add onion and let cook about one minute.
2. Cut fish in 1-inch cubes and add to onion.
3. Add 3/4 cup water, parsley and buillion cube.
4. Boil in 5 minutes .
5. Let simmer over low heat until fish is done.
6.Add milk and season to taste with salt and pepper.
Makes 2 eight-ounce serving with 210 calories or 105 calories per serving.
(sorry can't resist)
My friend lost weight and he is now an AMERICAN citizen. If you did not get the humor, you must be fat. nyahaha.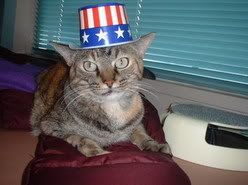 The Ca t