Books, books ,books
Dear mouse,
Tatang Rhet of the Karinderia fame would like to know what books, this Ca t is reading.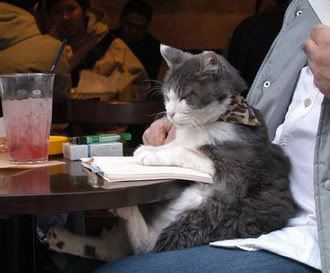 All kinds of books excluding the unpublished books authored by the Tyco and Enron executives that sent the authors to jail. They could have been booksellers with the title "How to Cook Corporate Books."
Here are a few questions that he made me answer
1. You're stuck inside Farenheit 451. What book do you want to be?
Life on the Other Side by Sylvia Browne

This is about a psychic's tour of the afterlife. Most of the people would be interested to read what lies ahead out there when they are not among the lucky ones.
Have you ever had a crush on a fictional character?
None.
The last book you bought is...
Can't remember. I haven't started reading what I bought last year which is about How to Enhance Memory.
Five books you would take to a deserted island:
My Agatha Christie collections that include her writings dating as early as 1924 and other detective stories collections. Feel ko detective ako na kailangang malaman ang reason why I was stranded in that deserted island. There must be a conspiracy.

Charles Dickens-wala lang.akala ko kasi noong bata pa ako, nursery rhymes, as in Hickory Dickory...

The whole set of encyclopedia-Wala lang. Feel kong memorize at sumali sa Double Jeopardy pag ako narescue.

How to Deal with Difficult People

I may have problem dealing with my other personalities. Di ba si Tom Hanks nakikipag-away doon sa ball na nilagyan niya ng mukha. Can't remember the title of the movie where he was marooned in an island. bwahahaha

The Bible and the Koran

I like to see the similarities and differences

.
What are you currently reading?
Secrets of Tarot

This is my fifth book on Tarots. I may change career anytime. Manghuhula na lang ako. Kukumpetensiyahin ko si Madam Auring. hekhekhek
Driven To Distraction- a book about coping with Attention Deficit Disorder. Don't ask me why.

Strange Stories, AMazing Facts-Wala lang. I love weird stories.Weird people like weird stuff.

Lee Kuan Yew, During the Crucial Years-Wala lang. I like to read about lives of people. Ususera. I finished Mao's,Hillary Clinton's, Mother Teresa's, Martin Luther's, Princess Di's, plain folks and their struggles, movie stars and their rise to fame and fall to oblivion. etc.etc.

The Insanity They Call Love- The love stories of Martin Luther and the nun he married, King Louis and Eleanor of France and love stories in England during Victorian period. Wala lang, I like to know kung gaano sila kacorni pag nainlove.
Much as I want to pass the stick to so many bloggers, I decided not to. They are all on a vacation due to Lenten season.
The Ca t