iDIOTBOX
Dear Mouse,
I cannot log in at the Pinoyblog. Argghh arghhh.
While getting rid of old receipts, lotto tickets and warranty papers of electronic equipment that must have long been buried in the landfills, I watched TFC.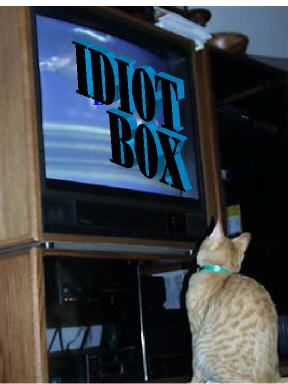 Moviestar1: I want to know the real score between you and blank blank now that you have parted ways.
Moviestar 2: It still hurts. blahblah blah,blah
Moviestar1 :Is it true that there is a third party ?
Moviestar 2:It is not true.blah blah blah blah blah blah blah blah blah. (she gave a blow-by-blow account of the break-up)
Moviestar 1 :So there it is friends. Sana naman ay huwag na nating alamin pa ang mga makakasakit pa sa mga bagong hiwalay.Irespeto po natin ang kanilang damdamin.
The Ca t sez: susmaryones naman ineng, pagkatapos mong mang-urirat at pagkatapos namang ibulatlat ng kasama mo ang kaniyang buhay, sasabihin mong irespeto ang kanilang damdamin.

Nasaan ba ang aking step-in at may mahambalos?<

p/> ************
Showbiz reporter: What do you think is your edge to other newcomers?
New Talent: I am only 19.
Showbiz reporter: Complete the sentence, I was born with ______________.
New talent: I was born with the province______.
The Ca t sez: Mayaman pala siya. Meron siyang probins.
She will be a good comedienne.

BTW, i noticed that the sexy starlets in the sitcoms are wearing less revealing outfits. There was a time when practically these no-talent-with-papaya like-boobs-stage-props-ladies were wearing honeymooner nighties in prime- time TV shows.

Even Kris complied to the request of the Board of Censor lady boss to "show less skin."

I hope the absence of that lady-with parang-pinaglambitinan-ng-dalawang-matsing- na-boobs from the Wazzup2 is permanent. She is not funny and not sexy.

What I want to see is a sitcom that extols virtues and family values and not those idiotic free-for-all-adlibs and non-stop-screaming and panay-tsansing ng mga actors sa not-so-naive- starlets.

Kasuya.
The Ca t