Mayo and Pear Masks
Dear Mouse,
No I am not into food blog.
This is just a recipe of a mayonnaise as facial mask.
Ingredients
1 1/4 cup vegetable oil
1 teaspoon salt
1 egg
1 loaf breaf
1 slice of ham
1 tomato(sliced)
1/2 cup apple cider or vinegar
In a blender or food processor, mix 1/4 cup oil,salt into the whirling mixture.
Keep the blender mixing and pour half of the vinegar or apple cider in a slow steady stream. Keep the blender mixing. Slowly pour into the mixture another 1/4 cup of oil followed by the rest of the vinegar. Continue blending.
Slowly add the rest of the oil. Blend until you have a thick white creamy mayonnaise. Pour into a clean container and refrigerate.
Apply to your face as a mask.
Make a ham sandwich with a mayonnaise as spread.Eat while waiting to wash off the mask.
O di ba may pagkain ka na,may facial ka pa.
Pears are also a good source of sorbitol. Sorbitol is a humectant that gives a good feeling to your skin and is good for red and blotchy skin. Apply the mashed fruit on your face.
Ganito ba ?
Bakit ayaw dumikit sa mukha ko?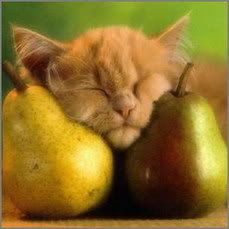 The Ca t