Obsessions-Compulsions
Dear Mouse,
He is a very good friend. Yes, he. For years , he was always mistaken as a beautiful woman with long flowing hair. He is not transsexual. He is married and has four young children.
He has this fear that his father would die if he has his hair cut short. According to him, many a time, when he was young, his father would suddenly fall ill after his hair-cut. Call it coincindence or superstition but my friend graduated from college with long hair. Doctors would diagnose him here in the States to have obsessive-compulsive disorder.
People with OCD worry so much that they indulge in rituals (compulsions) in order to shut down the worry thoughts.
My friend would comb his hair five times.
My friend's roommate washes her hands before and after touching anything. No big deal? But she does it three times. Her lucky number is three.
She washes the fruit with soap and spray the carpet with alcohol.
One time, I chanced upon her ironing some dollar bills. At first, I thought she has absentmindedly laundered the green bucks like I do. I have the habit of simply putting my jacket and pants in the laundry machine without turning the inside pockets out.
No sir, she is really washing the dollar bills because they are germ carriers.Good for her, the bills are made from paper materials that can withstand heat and water without bleeding.
Excuse me, while I fix the books in the shelf. They are not of the same height.
She would call her parents in the Philippines not out of desire to hear from them but because she worries that if she would not, something bad might happened to them.
Excuse me, while I rearrange the throw pillows. The black should alternate the white.
She is not religious but she goes to mass every Sunday. She does not know who Mark is. She's just afraid that bad luck might befall on her as punishment.
Excuse while I separate the pencils from the pen in my pencil holder.
She is still single and she is close to starting life at 40. She got relationships that never went beyond the dating phase. Poor men. They had to wait for her for hours before she finished the rituals of making herself ready to watch a one hour and 40 minute-movie.
Excuse me, my phone is ringing. I have to pick it up before it rings three times.

Silly, 3 is not my lucky number. The answering machine does its task after three rings and any conversations made after that are going to be recorded

.
Me: Yello, no, I do not want to go to the hair salon for a hair cut. Bye.
That was my friend asking me if I like to go with her. She got a new hair stylist and I might want to try to have a new do.
Ano siya nababaliw. Ako magpapaputol ng buhok. Hindi ako obsessive-compulsive ano. Ayaw ko lang mabawasan ang IQ ko.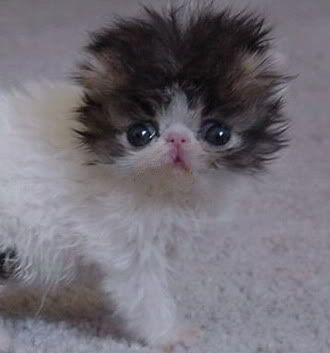 The Ca t