A journey to the DIARYLAND part 1
Dear Mouse,
You read it right...diaryland and not dairyland. A week ago, I posted about my intent to know the profile of the pinoy bloggers. This is not limited to the members of the pinoyblog though.
Methodology
I did not use the survey/questionnaire method for the reason that I wanted to see the blogs/sites myself; know more about the bloggers/writers and the topics that are generally discusssed in the blog.
Sue me, but I did not get a sample size of a population. First, there is no population to talk about. I started with my links, my links' links;my links'links'links and so on. The subjects are not limited to blogger/users but I did not include the livejournal users. This should explain why I have a very small number of bloggers below 20 years old.
My ocd syndrome urged me to get an equal number of female and male bloggers both based in the Philippines and other parts of the world.
There was no problem for Philippine-based bloggers. There are as many male and female blog/siteowners that I can access but I have to limit them to those with complete asl data only. Some have vague profile that I was tempted to engage the services of a hacker to get their personal information. Mea culpa, I am also guilty of such type of profile but I am not included in the survey. Beh.
Well, the exact age does not have to be revealed especially by the female bloggers or else I will have only less than five subjects. hehehe
It turned out that there are many female bloggers overseas than the male.Where are thou Romeo?
The blogs should be updated up to January 2005. I do not want stale news, dahleengs.
I saw many blogs that had breathed their last way back in 2003 and are still linked in some sites
Some have stopped or have moved to new servers or have assumed another url title without posting a forwarding address.(Aray, makuha kayo sa tingin.)
Summary of findings:
Overall, I was able to visit 180 sites but only 120 met my criteria as to update and profile. Some have just started in 2005.
Note: If a kind soul will show me how to present the findings in tabular forms, I'll gladly thank him and revise this presentation.
(Thank you
Mark
.)
Age (the first in the ASL) distribution.
Table 1 Age distribution
| | | |
| --- | --- | --- |
| age | number | % |
| below 20 | 8 | 07% |
| 21-30 | 51 | 42% |
| 31-40 | 48 | 40% |
| 41 above | 13 | 11% |
| total | 120 | 100% |
There are eight who fall in the category below 20 which represents 7 per cent of the total. The biggest percentage of bloggers belong to below 30 category (21-30) accounting for 42 per cent or 51 of the total number.
The 30 up but below 40 category is just one per cent short of the percentage of the 20ish bloggers. With a total of 48,the percentage is 40 per cent. Only 13 or 11 per cent are in the above 40 category. The findings show us that more than 90 per cent of our bloggers are young.
You cannot blackmail me to tell you who are those bloggers who are no longer in the calendar a decade ago.NOOOOOOOOO.
Some were honest to write their age; some did not even give a hint. For some, I have to use my judgement. bweheheee.
Sex
Table 2 Distribution according to Sex
| | | |
| --- | --- | --- |
| Sex | number | % |
| Male | 53 | 42% |
| Female | 67 | 58% |
| total | 120 | 100% |
There are 67 female accounting for 58 per cent of the total and 53 or 42 per cent are male. However, I have to disclose that one female admitted that she has a girl friend /lover while a young man is proud to write that he is a happy gay as in baklang-bakla. ahahay.I cannot answer for those who are still in the closet.tsee
Location
Much as I want to get an equal number of bloggers from the Philippines and other parts of the globe, I was restricted by the availa- bility of male bloggers, overseas.
Table 3 Distibution According to Location
| | | |
| --- | --- | --- |
| Location | Number | % |
| Philippines | 70 | 58% |
| Overseas | 50 | 42% |
| total | 120 | 100% |
Out of 120, 70 or 58 per cent are based in the Philippines, both males and females and 50 or 42 per cent are scattered in the different continents of the world map.
Itutuloy po. kakain lang po.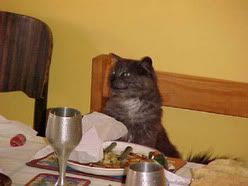 The Ca t