MISS WHAT
Dear mouse,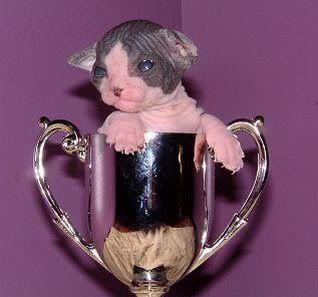 Sassy wrote :
What is the relevance of bust, waist and hip measurements in a search for "the woman who best exemplifies the qualities expected of future women leaders of the Philippine information and communications technology (ICT) industry"?

What is the relevance of 60% of the criteria for choosing the winners--popularity (by text votes--20%), beauty/presentability (20%), poise/personality (20%)? Why does intelligence ("academic performance and technical proficiency based on her 201/academic records") constitute a mere 40%? Why do prospective contestants have to submit "two (2) 3" x 5" colored photographs (one close-up and one full body
)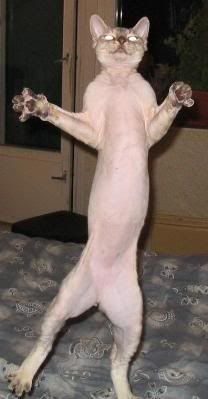 Thank you, thank you,Sassy.
At least I am free from that improvised/bust-pushin'/waist- huggin'/ body conturing /trophy to shape up this Ca t for that contest.
Now, let me breathe again. Uhmmmmmm.
The Ca t
hahahahaa (that's air comin' out, no cause for alarm).
For more of cats' pics,go to my catlinks in my sidebar. Thank u jobert for the links and ting,bongk for pics.