The CAT with one less life to live
Dear mouse,
Cats have nine lives. This one has used up one.
03-03) 19:26 PST Inkom, Idaho (AP) --
Hutchison was driving along Interstate 15 one day recently when a motorist kept trying to get her attention and pointing to the roof of her car. She said she was wary of the man, but wondered if perhaps her ski rack might have come loose.

She pulled over to the side, but kept her doors locked and the motor running.

The man pulled up behind her. Hutchinson rolled down her window to hear the man frantically shouting, "Your cat! Your cat

!"
She had driven about 10 miles with the cat on top of the car, and didn't even notice the feline when she stopped for gas.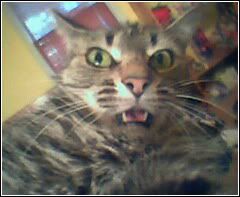 Picofthecat from catcollection hosted at photobucket.com
That was a hell of a ride. Don't get her near me, or i'll scream.
The Ca t