Ninoy Aquino, Restless Spirit ?
Dear mouse,
MARKMOMUKHAMO WROTE:
In recent news, Ninoy is supposedly haunting government offices again:
Lawyer Cecile Villarin, who assists in the research work on the Aquino-Galman double murder case, recounted that on Feb. 22, she was working on her computer at the PAO in Diliman, Quezon City, on the transcript of records of Rebecca Quijano — also known as the Crying Lady — when she was surprised to find the words "To reach Senator Aquino" suddenly appear on the screen. Villarin told Tonight it was rather strange, pointing out she was in the process of copying and pasting another sentence when the phrase came up on the screen — and was repeated eight times
p/>
Now look at this, written way back in 1989 thru automatic writing.
See the explanation of automatic writing in this site.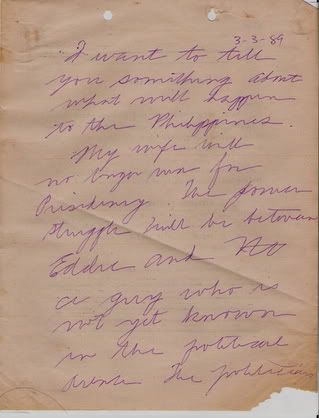 More...
The Ca t