The Absent-minded Professor
Dear mouse,
Why are professors absent-minded ?
Sa totoo lang, many of them are pre-occupied with other stuff that they forget what they are supposed to do---teach.
Some professors whose income generating activities come mainly from their per hour stint of talking to students are "making lagare" to several educational institutions.
"Making lagare" means teaching in different univesities as in making "lagare" sa shooting for popular and ever-in-demand movie stars.
In the academe, it is the professors, lecturers, instructors who are the stars. They are the divas, the spoiled brats who play with the fears and anxities of students and the visionaries who see from the start of the semesters if you are doomed or not.
Yes, Virginia, many of them are handling as many as 45 units per week...that's what they call Kalibre 45. That is nine hours a day of teaching. Oftentimes you will catch some of them mouthing marketing principles and practices when they ought to lecture on economic principles.
Some members of the academe believe that when you are a masteral, you can handle any subject under the sun. Kaya they accept subjects even if it is not their expertise except,Accounting, Law and engineering subjects.
Some call names of students who are not members of the class. (pabilib kasing alam nila ang istudyents nila)
Sus ginoo nasa kabilang bangir pala ng Recto.
I was once a member of the academe,I am proud to be one and I am proud to admit that I am absentminded... not because I had too much teaching loads and made lagare...at may kasamang martilyo...but they said that I got an overdose of anaesthesia when I had my major and minor ops.Kaya minsan may kausap ako kailangang tanungin ko kung sino siya after a few minutes talking. Hindi ko po kayo binobola.
At ano naman ang drama ng aking pagka-absent-minded?
You see, I was handling this evening class for my friend/ boss/professor while he was on sabbatical leave for a semester when I had that embarrassing moment that I thought I was in the wrong avocation.
To make the story short, as I was making pudpod my shoes walking to the hall that leads to the rows of classrooms, I was mentally calculating the benefit/cost analysis of handling that subject where the benefit was another brownie point from my boss and the cost was depriving myself of enjoyment after a day's work in my 9-5 job and some moonlighting jobs other than teaching.
I entered a room, murmured some good evening class, sat in my desk and looked for the classcards from my oversized bag. All the time, my pair of glasses was in its favorite place, multitasking as headband.
Then, I plucked it out from its nest, wiped it with kleenex and put it where it was supposed to be...my nose.
Sandali, I looked at the students. Ekkk bakit natransport ako sa "Back to the Future" movie set. Bakit tumanda ang aking mga istudyents. Gusto kong lapitan yong isa at pisil-pisilin yong mukha kong totoo ba yong wrinkles at tanungin kong saan nila dinala ang aking mga batang batang istudyents.
(FYI, I started teaching in my early twenties...a few years after graduation ). There may be students of mine who are a lot older than I was especially in evening classes but not in that class where all students were in their 40's or up. Paano na lang ako makakaterrorize, baka padapain ako noong mukhang lolo at sinturunin ako.
Yon pala, mali ang classroom na napasukan ko.
They were doctoral students whose room was temporarily transferred in that hall for more than a semester already.
I said sorry, wrong mistake.
Pero hindi pa grabeh yan kumpara sa experyens kung pagsakay sa bus na imbes pabalik sa MNL ay tumuloy na sa Legaspi.
Pero saka na yon.
"Ano kayo sinsuwerte?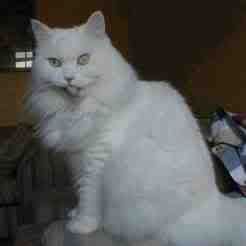 The Ca t