Chest Pain?
Dear mouse,
So your life is what you've dreamed even before you step out of the portal of the university...you got you career, money is no problem, your love life is abloom... then tragedy of tsunami proportion strikes.. you're down on your knees, you hit the rock bottom, you're paralyzed by your despair and crippled by sorrow.
There are times when nothing seems right. They call these trials,challenges, hard times, adversities, etc. etc.
Things get heavy for us to bear.
Today, I woke up feeling something heavy on my chest.
Kaya pala.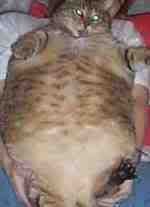 Pic from amazingcatcollectionhostedbyphotobucket.
hekhekhek
The Ca t