Politics' Politics
Dear mouse,
The blind item is no longer "blind". So it was the FG who stayed in the $20,000 suite just to watch PAcquiao's fight.
Initial press releases mentioned that it was courtesy of friends and relatives.
Now, direct from the horse's mouth...
Mike Arroyo: It was free; what's the problem? WITH his granddaughter Mikaela sitting on his lap, First Gentleman Jose Miguel Arroyo yesterday faced the press for the first time since the controversy arose over his alleged use of a $20,000-a-night suite in Las Vegas during the recent boxing match between Manny Pacquiao and Erick Morales of Mexico. At a press conference in Malacañang yesterday, Arroyo said he did not see anything corrupt about accepting a generous offer of a suite from the MGM Grand Hotel as he thought that his stature as the husband of a head of state entitled him to such perks.

"It was free. What's the fuss all about? Why don't they check on Erap?" said the President's husband, referring to ousted president Estrada, who is known for his luxurious tastes and is now on trial for corruption. Arroyo said that some friends of his had offered to pay for a room for him at the same hotel but the hotel management offered to give him complimentary accommodation.

"What person will say 'No, I will pay' if it's free? What's the fuss all about? If it is free, would you insist to pay? So what's their problem if it is for free?" said Arroyo who could not hide his anger.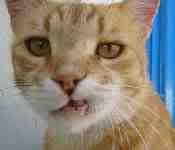 The Ca t sez: The word is delicadeza.
The Ca t