Google Adsense
Dear mouse,
If you have google ads in your webpage, this news report may interest you.
Suits may dent Google ads - report
By Alistair Barr, MarketWatch
Update: 7:32 PM ET March 27, 2005
A growing number of lawsuits against Google Inc. may dent the Internet search giant's revenue, the International Herald Tribune newspaper reported Sunday.

The lawsuits challenge Google's practice of selling online keyword advertisements to the rivals of companies that own trademarks covering those words, the newspaper explained. So-called keyword advertising is a main source of revenue for Google (GOOG: news, chart, profile) , which generated $3.2 billion in sales last year largely by charging a few cents each time a user clicks on an ad, the newspaper said.
The Ca t sez: And I am beginning to earn a few dollars. Hmph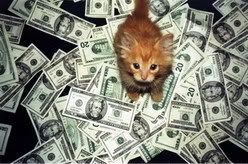 The Ca t