The Pope has a blog erm blogs
Dear mouse,
i am not surprised to learn that we got a new Pope. I know that some of the considerations of the cardinals are the age as well as the expectations that he would be as conservative as the late pope when it comes to issues of abortion, contraceptives and gay marriages.
Besides ,this is the age of technology so what would prolong the choice when information about the candidates have been disseminated electronically for the cardinals' perusal/references?
Btw, read infraternan meam's comment in my blog, the youngest pope. He discussed exhaustively the manner by which the young pope was chosen and how he lived his life as a pope. The article was not meant to discredit the Vatican but to compare the past and the present selection process of the highest position in the Roman Catholic hierarchy.
Going back to the Pope's blogs, here are the links.
And here is the pic of the new Pope courtesy of polo.
Ooops, polo. I did not mean Pope Bean idict.
PH...pahabol, sabi ni polo hindi siya may kasalanan, ermmm hindi raw siya ang may gawa. Sige na nga.
Here it is: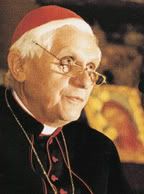 The Ca t