Pork out of the Barrel
Dear mouse,
I do not understand what Jinggoy meant when he mentioned the salaries of the local government employees in his objection to the scrapping of the pork barrel. That is entirely a separate and distinct expenditure item that receives appropriation with or without pork barrel.
How do some legislators allocate the pork?
Earl Parreno provided the percentage distribution calculated from the statistics provided by the suppliers themselves.
The Ca t provided the pig to be slaughtered.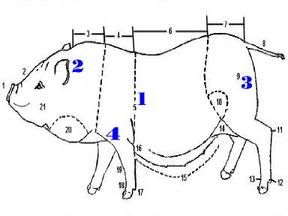 Earl
wrote:
"In most instances, suppliers of these goods automatically set aside 40 to 50 percent of the total budget for the lawmaker and his or her staff. (See number 1). Another 10 to 12 percent is allotted for the head of the office that will implement the project.( See number 3) Sometimes, suppliers say, they also set aside one to two percent for some Department of Budget and Management (DBM) personnel "to expedite the release" of the necessary documents that will ensure the transfer of funds from the National Treasury to the implementing agency.
"What is left with us is only about 37 percent of the total amount allotted," (See number 2) says an educational materials supplier. "But we don't end up in the red because we also manage to have some 12 to 15 percent profit (from the transactions)."
The Cat sez:
Even with only 37 per cent as their share, the supplier can still manage to earn a decent 12 top 15 percent profit. Production cost may be below 20 per cent. Kaya pala ang baboy nakakatungo pag lumakad; nahihiya. Tinutusok ng kawayan pag nilitson para hindi makatakbo.
The Ca t