Da Vinci Code and the Ca t(chapter 32)
Dear Mouse,
Brown wrote:
Da Vinci's original commission for Madonna on the Rocks had come from an organization known as Confraternity of the Immaculate Concepction..
The nuns gave specific dimensions ... the Virgin Mary, Baby John the Baptist, Uriel and Baby Jesus.
When he delivered the work, the group reacted with horror. He had filled the painting with explosive and disturbing details.
This is the original painting mentioned in the novel entitled Virgin of the Rocks painted in c 1483 to 86 and is now in Musee de Louvre, Paris.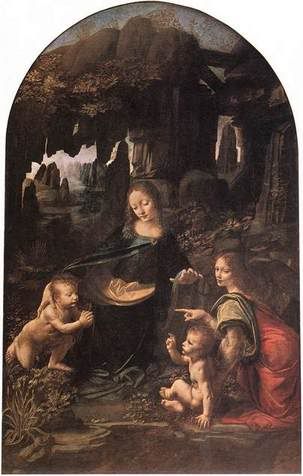 Read what Brown wrote about it:
The painting showed a blue-robed Virgin Mary sitting with her arm around an infant presumably Baby Jesus. Opposite Virgin Mary sat Uriel,also with an infant, presumably Baby John the Baptist. Oddly though rather than the usual Jesus-blessing-John-scenario, it was baby John who was blessing Jesus...and Jesus submitting to his authority. Mary was holding one hand high above the head of the infant John and making a decidedly threatening gesture-her fingers looking like eagle's talons.
Just below the curled fingers, Uriel was making a gesture with his hand-as if slicing a neck of the invisible head gripped by Mary's claw-like hand.

The Ca t sez:
Brown should know that it was the same scenario repeated in the baptism of Jesus by John when they met again as adults.
Instead of Jesus, baptizing John,he meekly submitted to his cousin's authority.
In fact, the second painting of Da Vinci showed no change exceptfor the addition of halos to Virgin Mary, Baby Jesus and St. John in order to show their superior divinity over the angel and a cross to identify who Baby Jesus was in the painting.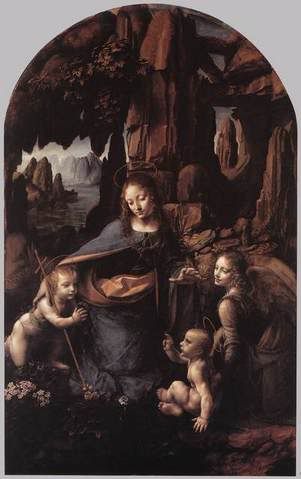 Virgin of the Rocks
c 1495-1508
National Gallery, London
The disturbing hands insinuating the mischievous side of Da Vinci were removed.Personally, I do not bite that "dark side", since Da Vinci's "hands" in all his paintings were all similar;feminine with long, tapered fingers.Take a look at St. John's finger.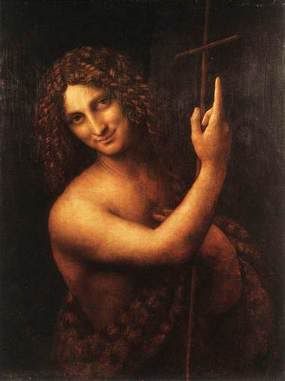 But of course, it is just a novel.
The Ca t