Role reversal
Dear Mouse,
Today is my mom's birthday.Yesterday was my sister's.
If she were alive, we would be talking over the phone for hours again especially during weekends.
As I have commented in titorolly's article about his mom, I was my mother's maton, a clown and a prodigal daughter.
I had silently admired my mother's strength,especially during the time when my father was in a coma for months in the hospital due to cerebral hemmorrhage.
I had asked myself how she was able to withhold the emotions during my father's burial just to show us that she can handle the pain and the challenge ahead of us.
She did not ask us not to cry but seeing her as an image of fortitude, we did not shed tears. Instead, we promised to be good and make his dreams for us come true.
I rebelled in my mom's autocratic house rules but cherished her stage mother's all out support in our pursuit of academic excellence.
I saw her stayed awake, when my sisters and brothers were preparing for scholarship tests.
I saw her face glowed when my siblings broke the good news of making it.
I saw the pain in her face when I came back as a young prodigal daughter.
I sensed that even if she punished me for it, she was proud that I learned how to live independently.
She was relatively young when she died so I did not expect the trading of roles between a mother and daughter would begin soon.
I knew she did not need to relinquish her life to us her children. She was still active in her parish in Boston.
She just got back from her trip from Europe with a lady friend.
Although not excited, she braced herself for the six-month wedding preparation of my sister.
I just thought that she was making us feel that she needed us. A stage in life after the empty nest.
Mom: This is my gown that your sister asked me to wear on her wedding. What do you think?
Me: Mom, you look like you just stepped out of Jenny Craig losing 20 lbs.
Me:Let me fix it for you.
Mom:Okay.
Rewind
Mom:This is the costume you are going to wear as an angel. Slip it on so I can make alterations.
Me: But mom...
Mom: No buts, not another word from you, young lady...
Slowforward
Jeweler: This necklace will look nice on you.
Mom: Asking me. "What's your say?"
Me: Too ostentatious. I like something simple and classy. Remember you are the mother of the bride and not a reyna elena. Save it for the party after the wedding.
Mom: To the jeweler. You heard her.
Jeweler: Hmm ...a daughter telling a mother, interesting.
Mom: She is my fashion consultant. (snickers)
Rewind
Mom: Your ruby ring is not for swimming. Take it off.
Me: But mom,how will my friend know that you gave me this ring for my birthday.
Mom: Basta
Me: Okay. (rolleyes)
Fast forward, in a hospital
Me: To the nurses. My mom has bedsores.She needs to be turned as regularly as possible. If you need my help, just say so. just don't let her suffer by not doing it.
Mom: hahaha, so you met my taray daughter(She was in semi-coma).
Me: Helping the nurse moved her up the bed."Mom,you're heavy.You need to go to the gym."
Mom:Hahahaha(laughing with her eyes closed).
Rewind
Mom:Eat this porridge before taking the pill. Don't nurse the fever,it will not go away... blah blah blah....
Me: Blech...
Happy Birthday, mom.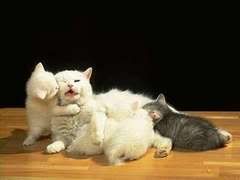 The Ca t