The Garden of the Good and Evil--Saddam,Stewart and the Ca t
Dear mouse,
This news article about Sadam and Stewart into gardening made me realize that I was not a wacko when I would retire to my little garden to ease the tensions and stresses in my life, moons ago.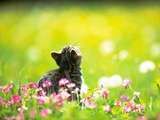 According to a recent article about Hussein's life in prison, the deposed Iraqi dictator spends the hour he is allowed out of his cell each day tending a small garden in the prison yard. Well that's just great. I suppose even a murderous tyrant needs a hobby. Maybe it helps him unwind. But this is more bad press that we gardeners don't need. In the current political climate, the last thing we want is for gardening to be associated with our country's arch enemy. The government already gets suspicious when people buy large amounts of fertilizer. Next thing you know they'll be trying to subpoena our seed purchase records under the Patriot Act.

Stewart could have stayed out of jail while her appeal made its way through the judicial process. If she did that and then prevailed on the appeal, she would have avoided prison altogether. But she showed up at the jail in October so she could complete her five-month sentence in time to begin her spring gardening.
When I was still in the Pinas, there were days when I was working 24/7. No,I was not in the medical profession. It was pure greed, honey and out of sheer necessity and lust for material things.
There were projects that I have to finish and deliver aside from my 9-5 work sked that could not afford me to buy a decent car but gave me an academic title that I am privileged to use. Besides, there is no such thing as enough for money. The more you earn, the more you spend.
My only break was a little sleep in my couch/bed/desk and a few hours in my garden. Yes,Virginia, I had a little garden; so little that I can appreciate the flowers without having to strain myself, walking. That's where, I sat in my garden chair, talked to my plants not to encourage them to grow and blossom but to talk about office politics, projects that I wished I could finish in due time and incoming projects that I have to accept. That's where I mulled on relationships and meditated on what decisions to make. Oftentimes, I would ask the plants. Siyempre hindi sumasagot,ano.
Some neighbors spied on me and thought that I was going loco. I didn't mind.
As long as my plants would not shrink for making them as my Shrink, I did not give a damn.
It's a pity that I cannot do gardening in my place. I got a wide backyard but the culprit is my addiction. Yes, I am a certified addict to blogging.
Btw,have you seen the movie, THE LAST EMPEROR?
He too was given the task of gardening in his twilight years in custody.
The Ca t