Karinyo Brutal
Dear mouse,
This reminds me of two women, the wife of the former popular cager Fernandez and Melissa Martel,the abused wife of a scion of a mall magnate. No, this woman was not physically abused by the husband. It was the other way around.
03-07) 10:19 PST Oklahoma City (AP) -- The husband of a woman accused of shooting him in the head, beating him with a baseball bat and leaving him for dead says his wife is innocent. Now he wants her back — and out of prison.

William McDonald — who answered questions from The Oklahoman by e-mail because, he said, he still has trouble talking — is living in Florida. He wrote that his wife never beat him and he accidentally shot himself.

William McDonald claims he was wounded when he accidentally was shot because he startled awake, pulling sheets against the trigger of the gun that was in the couple's bed. McDonald claims he then grabbed the baseball bat and went to check for intruders, spreading blood throughout the house

.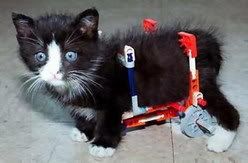 "Who said that she has beaten me? Are they crazy?"
Picofthecat from catcollection. hosted at photobucket.com.
The Ca t