Kulitzbulilitz-gradweyt na ako
Dear mouse,
I planned to feature pictures of kids with funny captions. If you have pics of your kids or nephews and nieces, you can send them to me. Old pics are also accepted. I would keep them anonymous. Only the viewers would know who they are. The captions are guaranteed not to make fun of the children.
Let's start the camera rollin'.
Parents are excited when their children don the toga comes graduation.
During prep grad.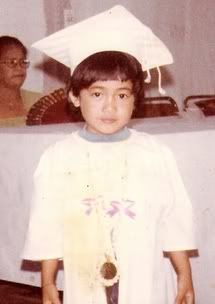 As well as college grad.
Pretty fast heh?
No kiddin', this brat is already a university professor.
The Ca t