ROAD ROME TRIP
Dear mouse,
Ikanga, all roads lead to Rome these days. So the Ca t decided to embark on a cyber trip to Rome via the photos taken by her brother who lived in Italy for four years before he moved back to USA.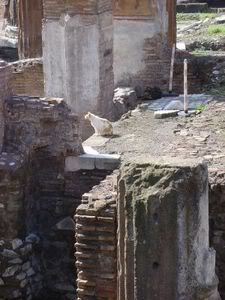 Tara na.
Tanong muna tayo ng direction.
Ito ang isang mama.
The Ca t: Sir, where can I find St. Peter's Square?

Michaelangelo: Sorry, Ca t. Although I designed the Dome of St. Peter's Basilica, it's been centuries and I myself might get lost looking for it. Why don't you ask Leonardo.

(Michaelangelo Buonnarroti (1475-1564) The greatest painter and sculptor of all tme. His famous works include St. St. Peter's Dome, Sistine Chapel Ceiling, La Pieta, David and many others. He wrote:

This comes from dangling from the ceiling– I'm goitered like a Lombard cat (or wherever else their throats grow fat)– it's my belly that's beyond concealing, it hands beneath my chin like peeling. My beard points skyward, I seem a bat upon its back, I've breasts and splat! On my face the paint's congealing.)
Da Vinci:Sorry, Ca t. I cannot even remember where I placed my painting of Madonna with a Cat.Besides, after I was impeached for accusation of homosexuality, I moved to France. Ask Galileo. He can use his telescope.
(Leonardo Da Vinci 1452-1519 was a painter, sculptor, engineer, musician and scientist. His famous works include Last Supper, Madonna and the Child and Mona Liza. A remarkable event happened on 8. April 1476. At this time it was usual to put anonymous accusations in a wooden box (called tamburo), which was put up in front of the Palazzo Vecchio (Picture). On 8. April Leonardo and four others were accused. The anonymous person accused Leonardo to have a homosexual affair with Jacopo Saltarelli, who was a model. The procedure ended for all participants with an acquittal of the charge. This story is an indication of the supposed homosexuality of Leonardo da Vinci.
Galileo: Sorry Cat. Rome disowned me after I contributed to its greatness. Ask Machiavelli.

Galileo Galilie 1564-1642
(It was a sad end for so great a man to die condemned of heresy. His will indicated that he wished to be buried beside his father in the family tomb in the Basilica of Santa Croce but his relatives feared, quite rightly, that this would provoke opposition from the Church. His body was concealed and only placed in a fine tomb in the church in 1737 by the civil authorities against the wishes of many in the Church. On 31 October 1992, 350 years after Galileo's death, Pope John Paul II gave an address on behalf of the Catholic Church in which he admitted that errors had been made by the theological advisors in the case of Galileo. He declared the Galileo case closed, but he did not admit that the Church was wrong to convict Galileo on a charge of heresy because of his belief that the Earth rotates round the sun.)
Machiavelli: What shall I say Ca t, you might misunderstand me as they misunderstood my writings and philosophies.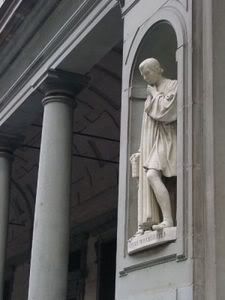 (Niccolo Machiavelli was born on May 3, 1469, in Florence, Italy. He eventually became a man who lived his life for politics and patriotism. Right now, however, he is associated with corrupt, totalitarian government. The reason for this is a small pamphlet he wrote called The Prince to gain influence with the ruling Medici family in Florence. The political genius of Niccolo Machiavelli was overshadowed by the reputation that was unfairly given to him because of a misunderstanding of his views on politics. )
The Ca t: I just find it myself. Maybe I can follow the horse.
or the water?
I wish I will find it. (drops coins in the fountain).
Oh no, not the coliseum.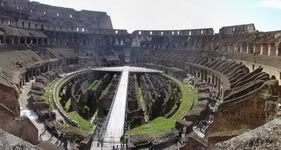 Nor Ate Vi...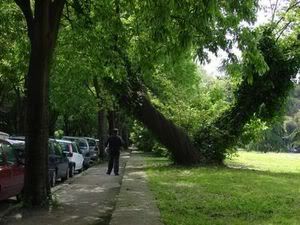 Eureka!!!
St. Peters at night.
The Ca t