God's Blog?
Dear mouse,
TOOOOOOT TOOOOOOT TOOOOOOOT TOOOOOOT
I' ve been dialing the number and all, I get is a busy line.
TOOOOOOT TOOOOOOT TOOOOOOOT TOOOOOOT
If you are not going to pick up the phone, I am going to hung up.
Suddenly, I got an instant message.
G: you got a question ?
Me: I do not know u. U r not in my buddy list. I do not talk to strangers online.
G: But you have been calling my phone. I've got this caller id now.
Me: Huhhhhh ? Are you one of my chatmates? But i do not chat with anybody anymore. Besides, I had this server disconnected already Weird. Bye.
G: Wait, here see my pic. I am sending you thru e-mail.
Me: How did u get my e-mail address?
G: I have also your ICQ.
Me: But I do not have an ICQ.
G:HA hahaha, Intelligent Cat Quotient, I mean.
Me: Bwahahaha
G: open your e-mail.
Me: Which e-mail address. I got several that I forgot some passwords.
G: all your e-mail addies.
Me: Ow, so you are a spammer.
Curiosity kills a cat. I opened my e-mail.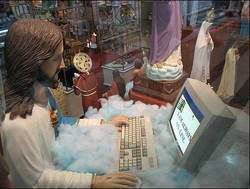 (pic via forwarded e-mail)

G: See I am always on line now.

ME: Hmmm impressive. You go with the times. Unlike some of your church leaders who are still centuries backwards when it comes to role of women in your organization.

Just one advice, GOD, if you take one from a clueless Ca t.

G: What is it ?

Me: Get a cable or a high speed internet so your phone is free for callers like me.

G: but don't you want to chat with me online or via e-mail.

Me: Honestly, no. with G-mail, I cannot delete messages. I am not a good typist, either that I hate instant messages.

Me: Errrm , do you have also unauthorized blog like your pope? You want me to set up one for You?
The Ca t