Something's fishy
Dear mouse,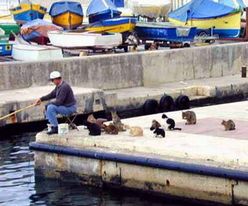 1. PATIS
Do you know that in Bay Area, PATIS or fish sauce is already being used in Western cuisines such as Caesar's salad and bouillabaise?
Yes, Virginia, I am referring to that tea colored, pungent condiment that gives flavor and aroma to Asian dishes.
Made from fermented saltwater fish and sea salt, the liquid drawn, filtered and bottled is known as nuoc mam in Vietnam, nam pla in Thailand and patis in the Philippines.
2. How to Cook the Book
Oscar is to film industry while James Beard award is to the Chefs and other culinary personalities.
This is the news that may interest our foodies/cooks/bloggers.
The charming oenophile with the refined palate and flair for fund raising seemed to have all the right ingredients to head the James Beard Foundation. But LEN PICKELL was a con man, whose cooking of the books nearly ravaged the organization.
When 1,700 chefs, restaurateurs, culinary writers, Food Network personalities and assorted other foodies gathered in midtown Manhattan on Monday to hear who had won this year's coveted James Beard awards, the single greatest presence might well have belonged to the man who was absent -- Len Pickell, the con artist who scandalized the industry and whose fall from grace came close to canceling the 2005 awards while ripping apart the nonprofit foundation that sponsors them.
For a decade, Pickell (pronounced pick-ELL) was a fixture at this million- dollar gala, the Academy Awards of food. Today he is in exile, awaiting sentencing for grand larceny.
The Ca t sez: Dapat sa kaniya gawing pickle. hekhekhek.
The Ca t