When my mind is absent
Dear Mouse,
Ringggggggg
Yello....
She's not home.
Phone: She lives alone, so who are you ?
This is her answering machine. Please leave a message.
Gawddddddd...and I was in the middle of remembering what's the item that I might have missed before i close my 22x22x22 balikbayan box.
It was full to the brim that I have to use the technique taught to me by a veteran balikbayan box/sender.
First, I placed the box close to the wall.
Then I pressed the box towards the wall in order to make the two flap ends meet and then secure and seal it with the 2-inch Scotch packing tape. Just beautiful.
Now where's the cutter ?
WHERE's THE CUTTER ?
Last time, I saw it, it was in a plastic bag.>
WHERE's the PLASTIC BAG ?
I am talking to myself. I am trying to retrace the steps before I lost the cutter.
The last time, I saw the plastic bag was when I put some trash in it. Uhhm
And then I dumped the plastic bag in the garbage bin in the garage.
Yeah, that's where it is.
Got to run before it is put outside for truck pick-up. I am still talking to myself.
Ringggggg
Yellowww
Phone: Don't hang -up.After this message,press 4.
Crash...bang...clank...
Sound of cordless phone and its base hitting the wall and breaking apart.
Excuse me while I retrieve...the ....let me think...what was I going to do before I was rudely interrupted by the phone?
Ahhhhhhhhhhhhhhhhhhhhhhhhhhhhh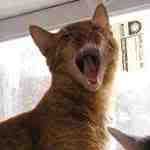 The Ca t